There is a feeling of anticipation, closely followed by a wave of excitement, when I sit down in a new restaurant and am handed the menu. I stop talking and begin to examine entrees and scrutinize side dishes. Then I start to barter with my dinner mates. The "if you get this then I'll get that" exchange that ensures maximum menu coverage. I can't imagine doing it any other way.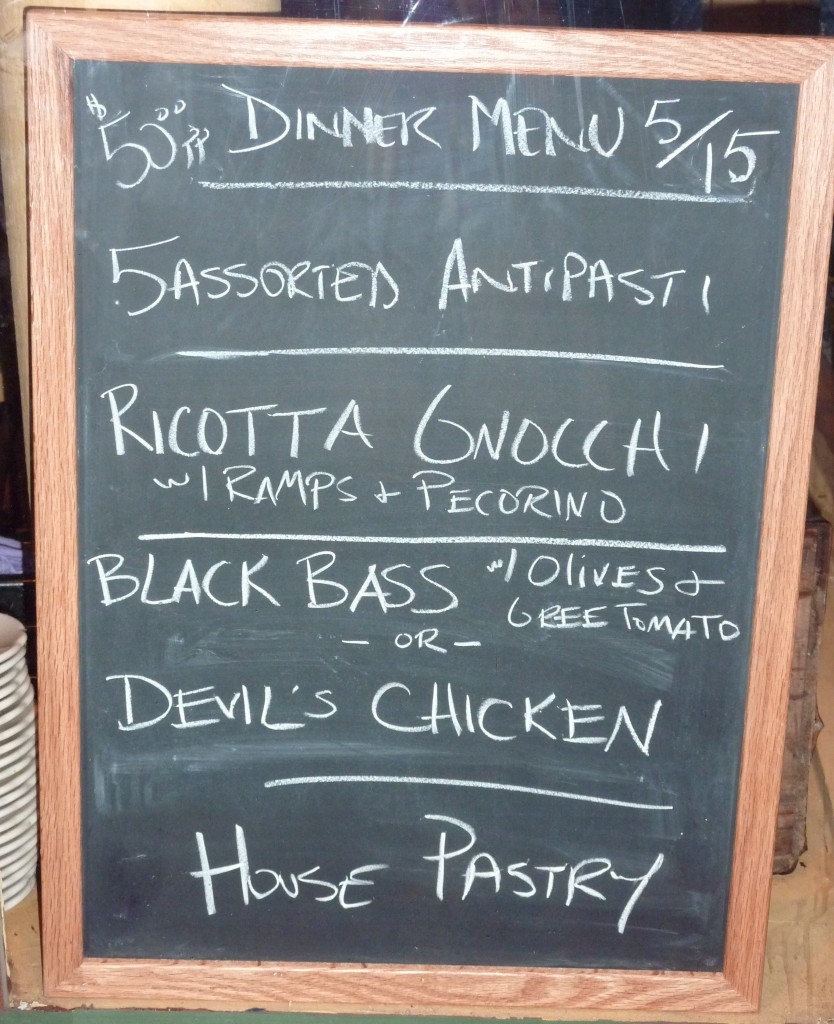 Unless, of course, there isn't a menu. In these rare scenarios, you sit back, sip wine, and submit yourself to the mercy of the chef. This "Sunday night supper" style doesn't always charm, but when it does, it can be immensely enjoyable. Such was our experience at Torrisi Italian Specialties, where the $50 per person charge covers a family-style menu that rotates daily but always includes five antipasti, a pasta, a choice of two entrees, and a pastry sampling.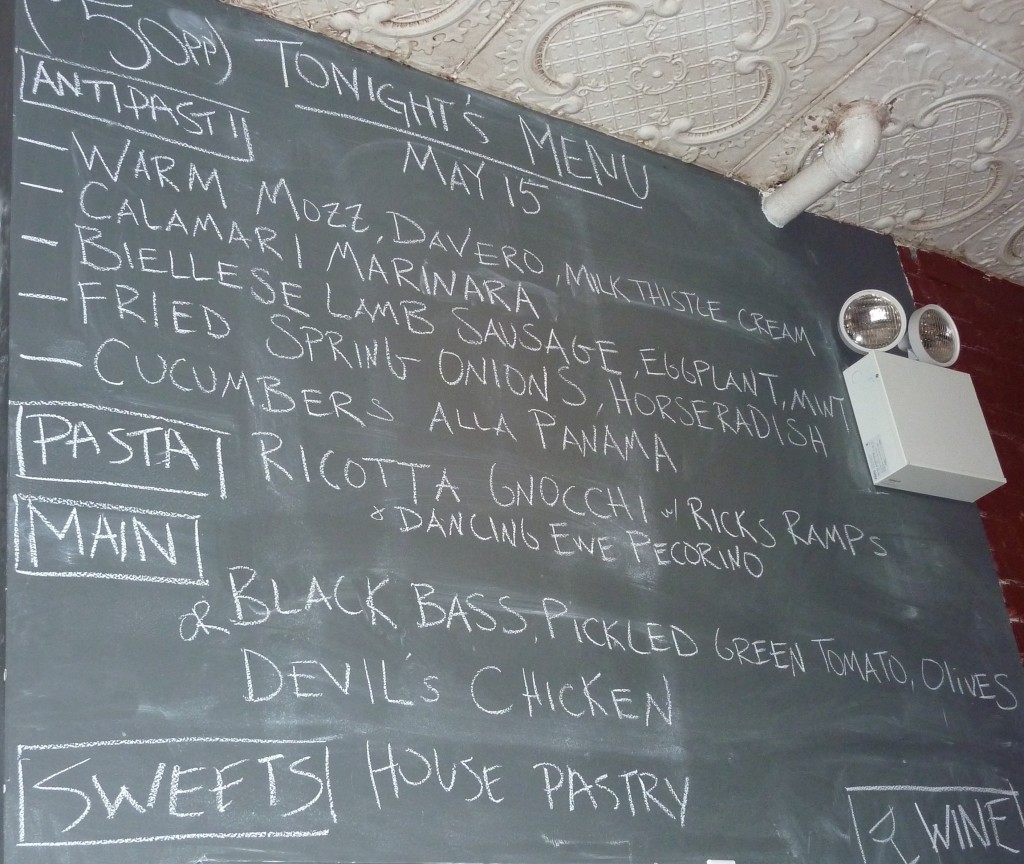 Chalkboards serve as story boards, laying out what the kitchen has planned for you. The atmosphere and service are very casual, the wine list is limited, but the food is of the Italian-Grandmother-meets-trained-chef variety: satisfying and delicious.
The meal kicks off with Torrisi's dreamy mozzarella. This planet-like orb of warm cheese is served with heavenly garlic bread. The clutch move is eating them together, a ritual that rendered our table silent. Rest assured, the mozzarella has been a menu staple. It's served every night and I'm confident there would be a Mulberry Street riot if it was ever erased.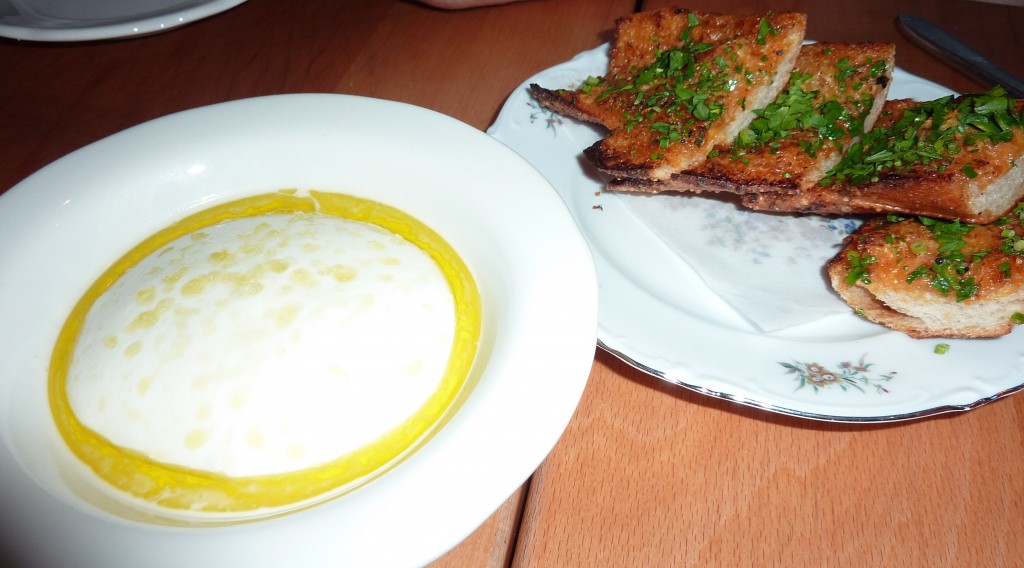 After such other worldly decadence it seemed plausible that the meal could trend south. It didn't. Soft-cooked calamari was an ethereal homage to tripe. Crumbled pieces of juicy lamb sausage were served with hunks of eggplant and drizzled with olive oil. There was a refreshing cucumber salad and a love song to greenmarkets in the form of fried spring onions.
The ricotta gnocchi was light and pillowy, but its subtly was lost in the shadows of the bang-up antipasti that preceded it. Both entrees – the Black Bass and the Devil's Chicken – were excellent. The flaky fish was foiled by tomatoes and olives while the chicken was doused with mustard and spice. The quality of chicken was a testament to Torrisi's focus on ingredients.
Italian pastries are often one-dimensional. They look different, but taste the same. Not so at Torrisi where the pastries are exploding with flavors like espresso and bourbon. These are not your Grandmother's cookies.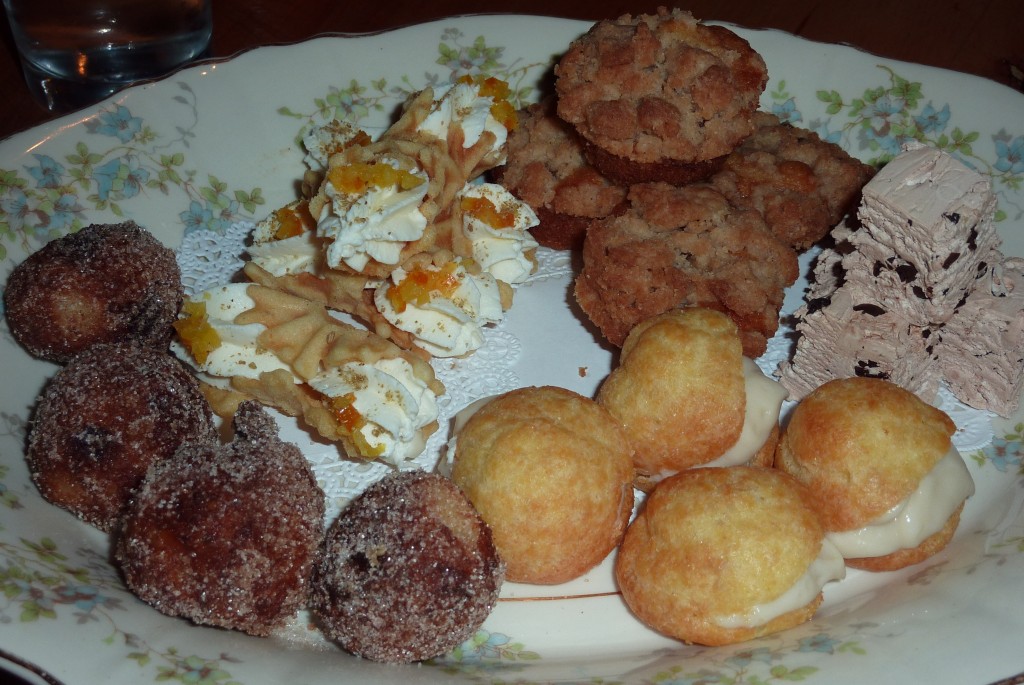 Eating at Torrisi will however, require your Grandmother's patience. They don't take reservations and depending on when you arrive, the wait for a table in this eighteen seater can be over two hours. There's no bar, but they'll take your phone number and call you when your table is ready. Torrisi also serves lunch (think sandwiches and lasagna), but while it's good, it's not as much fun. There is, after all, a menu.
Torrisi Tricks: 1) You can always check Torrisi's website for the daily menu and 2) they essentially have three seatings: 6pm, 7:45 and 9:30. Plan your arrival accordingly.