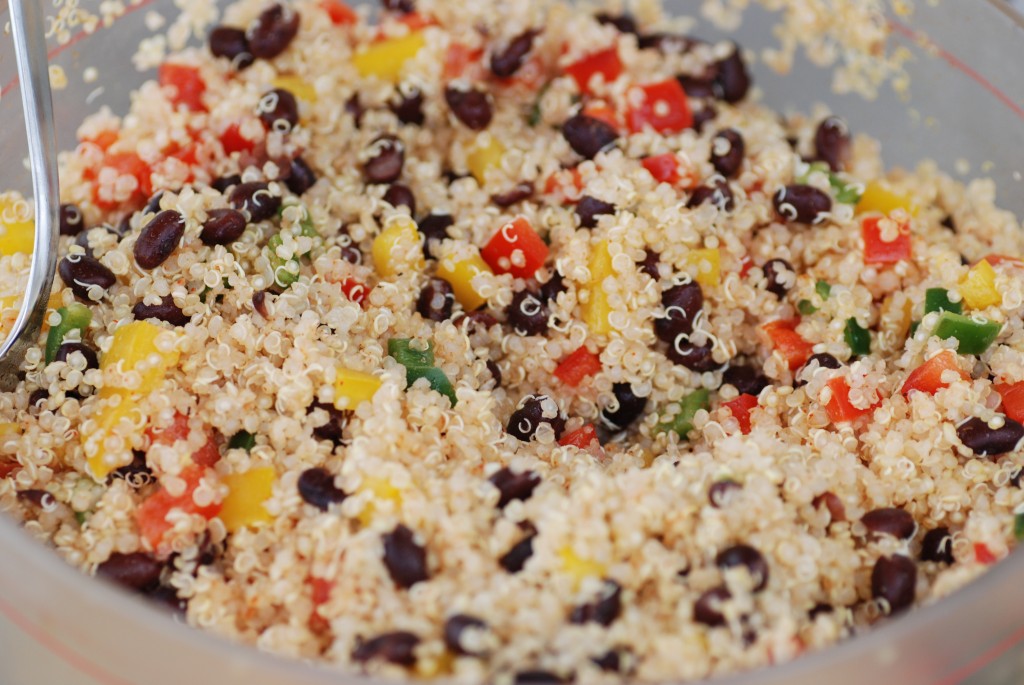 It's hard to believe that something so pretty is also so good for you. If you're in need of a light summer side dish, look no further. My mother-in-law sent me this recipe over a month ago and my only regret is I did not make it sooner.
Interestingly, it's from a 1994 Gourmet issue when quinoa was still only available in specialty shops (there was even a note in the original recipe directing you where to find it). Now you can find the healthy grain almost anywhere (not to mention pre-washed). It's less elusive than okra!
What I love most about this confetti salad is that every bite is chock full of ingredients. The ratio of quinoa-to bean-to pepper-to dressing is perfectly balanced and palate pleasing. There's never a bite with too much quinoa. Never a soggy forkful. I jazzed it up with some extra spice and would recommend you do the same.
As with so many things, it was better the next day. The flavors were melded and more intense, but the vegetables were still just as crunchy and fresh. Though we didn't have leftovers past day two, this salad would be an enviable addition to a packed work lunch.
Quinoa and Black Bean Salad
Adapted from Gourmet
1 1/2 cups pre-washed quinoa
1 can black beans, rinsed
1 1/2 tablespoons red-wine vinegar
1 red pepper, finely diced
1 yellow pepper, finely diced
2 jalapeños, seeded and minced
Dressing
5 tablespoons fresh lime juice, or to taste
1 teaspoon salt
1 1/4 teaspoons ground cumin, or to taste
cayenne, to taste
1/3 cup olive oil
In a saucepan of salted boiling water cook quinoa 10 minutes. Drain quinoa in sieve and rinse under cold water. Set sieve over a saucepan of boiling water (quinoa should not touch water) and steam quinoa, covered with a kitchen towel and lid, until fluffy and dry, about 10 minutes.
While quinoa is cooking, in a small bowl toss beans with vinegar and salt and pepper to taste.
Transfer quinoa to a large bowl and cool. Add beans, peppers, jalapeños, and toss well.
Make dressing: In a small bowl whisk together lime juice, salt, cumin, and cayenne and add oil in a stream, whisking.
Drizzle dressing over salad and toss well with salt and pepper to taste. Salad may be made 1 day ahead and chilled, covered.