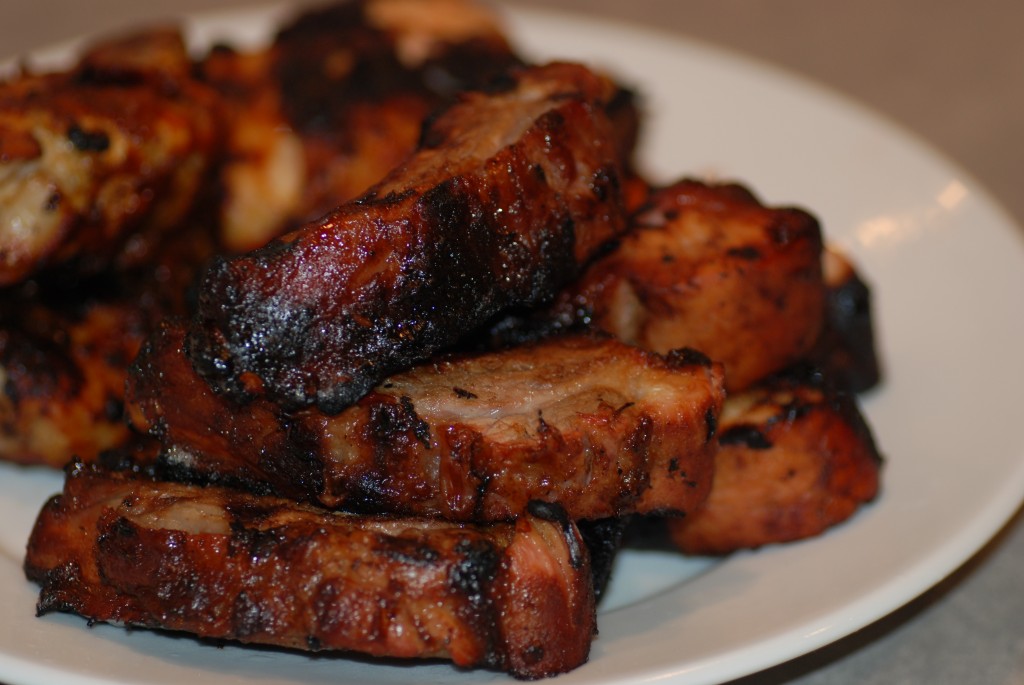 As the end of summer approaches, I turn some of my menu-making attention to my freezer, where since June, carefully packed meat has been waiting patiently for consumption. It is the casualty of buying without being sure of the final head count or a last minute change in dinner plans. When I lovingly tuck the saran wrapped and ziploced packages away, between homemade ice cream sandwiches and pints of Haagen Daaz, I promise them they'll get their turn. For these ribs, the wait was well worth it.
I didn't want the typical barbeque ribs. I didn't want them to be too spicy, nor too sweet. I didn't want them too be too dry, nor too wet. So when I read the ingredient list this for this recipe, it felt right. My instincts did not fail me – these were show-stopper ribs and now that I've had them, I'm not sure I'd make them any other way.
There is definitely some asian influence in the recipe and every few bites I would be reminded of those amazing Chinese pork spare ribs that would emerge from the foil-lined take-in bag that marked the Sunday nights of my childhood. These hoisin-honey ribs also open up tons of side dish options. You can get away with the typical barbeque stables, like grilled corn or slaw, or you could take it in a whole other direction with something like noodles with peanut sauce or homemade fried rice.
What's in your freezer?
Hoisin and Honey Ribs
Adapted from Gourmet
Note: I doubled the below and used one portion for marinating and one for on-grill basting.
3 pounds pork ribs (we used loin ribs, but I imagine spareribs or babybacks would also be delicious)
1/3 cup honey
1/4 cup soy sauce
1 large garlic clove, minced and mashed to a paste with 1/4 teaspoon salt
1/3 cup hoisin sauce
1/2 teaspoon dry mustard
1/4 cup distilled white vinegar
Whisk together honey, soy sauce, garlic paste, hoisin sauce, mustard, vinegar, and black pepper to taste. Marinate ribs (still in rack form is good) in brining bag or pyrex, turning every so often for at least 1 hour or overnight.
Grill ribs at 250-300 degrees or lower for a couple of hours. The meat will be done more quickly than the cooking time, but the slow cook will impart more flavor.
According to Gourmet you can also boil and then bake these using the below directions.
Cut racks into individual ribs. In a pot of boiling salted water simmer the ribs, covered, for 30 minutes and drain them well.
In a large bowl whisk together the honey, the soy sauce, the garlic paste, the hoisin sauce, the mustard, the vinegar, and black pepper to taste, add the ribs, and toss the mixture well, coating the ribs thoroughly. Let the ribs marinate, chilled, for at least 1 hour or overnight.
Remove the ribs from the marinade, arrange them in one layer on the oiled rack of a foil-lined broiler pan, and broil them under a preheated broiler about 4 inches from the heat, basting them with the marinade, for 3 minutes. Turn the ribs with tongs and broil them, basting them with the marinade, for 2 to 3 minutes more, or until they are browned well and glazed. Discard the marinade.