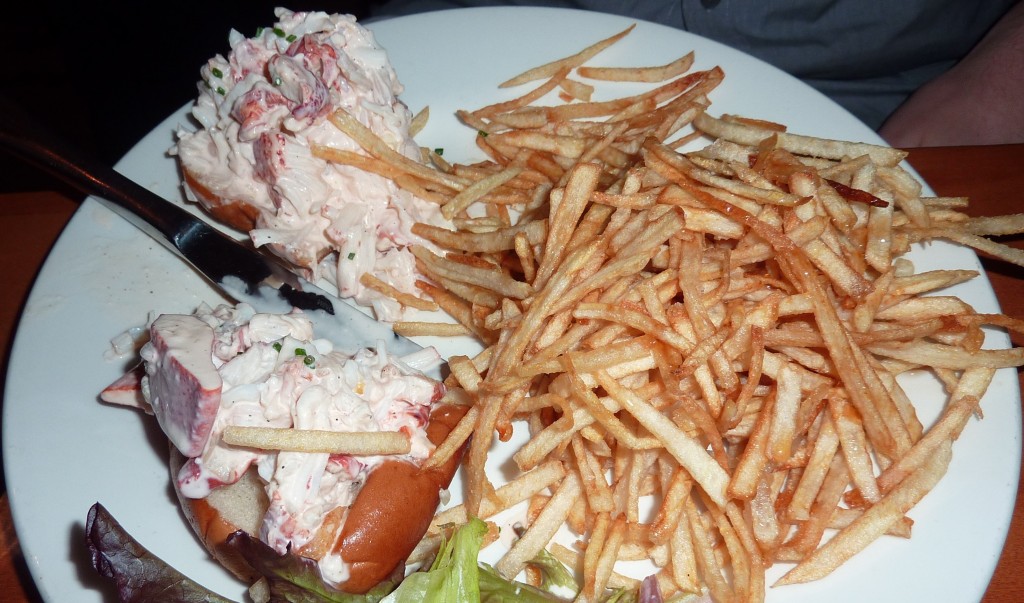 Last Wednesday I had the pleasure of dining with Gael Greene. Well, sort of. We were both at Pearl Oyster Bar satisfying our craving for a lobster roll. We were not however, at the same table. Fortunately, Pearl's Lobster Roll was so friggin' good that it kept me focused on my meal. I assume the same can be said for Gael, who never came over to say hello.
There's much debate about who serves the best lobster roll in NYC. At Pearl, huge hunks of delicate lobster are tossed with tangy mayonnaise and served on a sweet roll that holds together despite the heft of its load. The sandwich is of such grand proportions that it is near impossible to eat without the occasional help from a fork. With the accompanying pile of shoestring fries this single plate is a filling dinner on its own (which makes the staggering price tag more palatable). That's not, however, how I roll.
In addition to our entrees (two lobster rolls and a soft shell crab special), our table of three also chowed on fried oysters, sandy steamers, and a bountiful side of grilled vegetables. There were also two desserts – a sundae and a parfait – that made their way to our table. But now I'm just embarrassing myself.
Rebecca Charles, the chef and proprietor of Pearl, is the mother of Manhattan's lobster roll. And for now, she is also the queen.