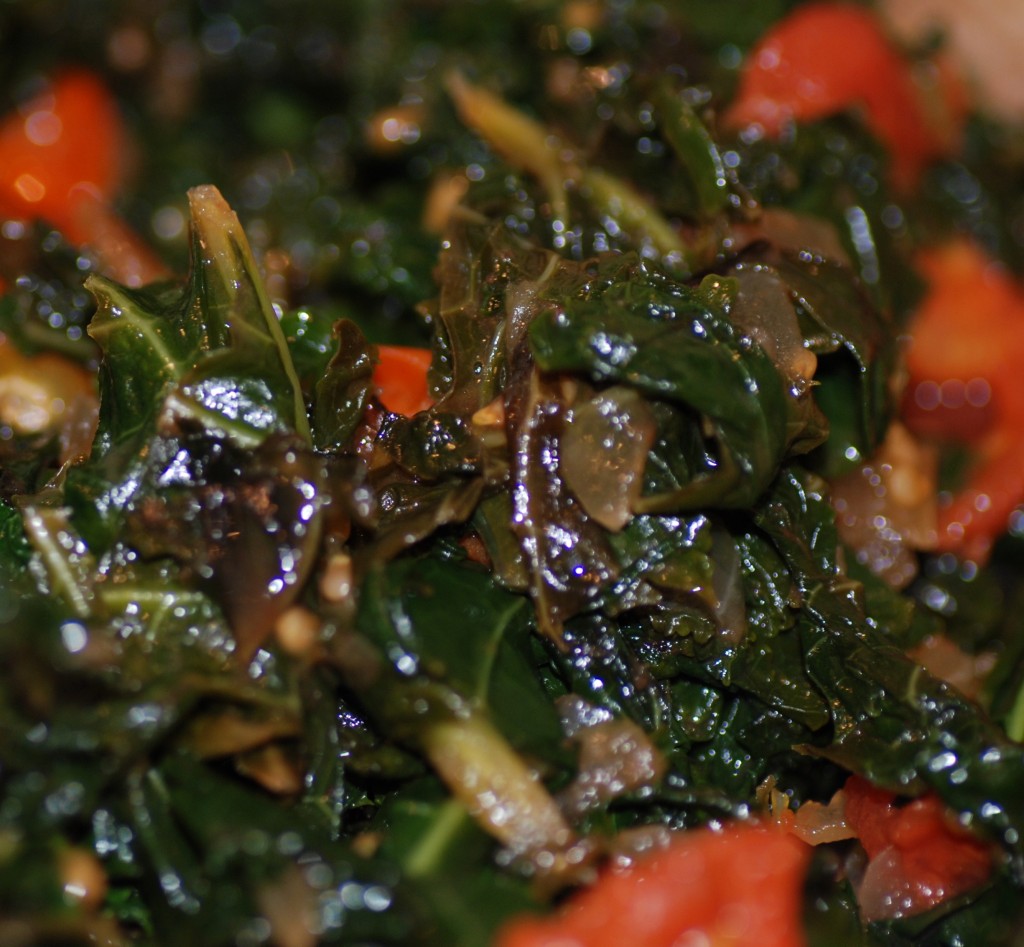 First off, I'd like to apologize for the picture. I was playing with some camera settings, using a new lens, and dinner was getting cold. I wish I could say that at least the colors are vibrant, but it looks like a Christmas decoration gone bad. I can promise you that it tastes oh-so good (and looks a lot better in person). Moving on  . . .
I have a difficult time eating the healthiest of vegetables when they have been prepared with 1) salty and fatty meat products, or 2) fat-laden ingredients. Two examples: brussels sprouts with pancetta and cauliflower gratin.
I'm fortunate to love vegetables, so it's easy for me to say there's something sacrilegious about taking nature's best vitamins and minerals and tainting them with salt and fat. It just seems unnecessary. When done right, brussels don't need the addition of bacon to taste bold. Sweet and crunchy cauliflower can be diminished by cheese and butter. If my statements sound blasphemous, and you can't imagine a brussels sprout without pig or cauliflower without the gratin, you might consider finding some vegetables you actually like! Wait let me guess, you love Collard Greens?!
Collard Greens are almost always prepared with some form of pork. So when I saw this recipe in Food & Wine it went to the top of my "to try" list. It's now in the top ranks of my vegetable side dish rotation and is one of my favorite leftover dishes (eaten cold, straight from the Tupperware).
The greens retain their crunch and brightness. The tomatoes add wonderful color, texture, and flavor. If you use the jalapeno it definitely lends some kick. The dish resembles a traditional Indian Saag and sometimes I play up that theme by throwing in some cumin.
It's a hearty side that vegetarians will adore and also pairs well with many a protein. As I note below, I've subbed in Kale to great results. I have a feeling any green will do.
Collard Greens with Tomatoes and Garlic
Adapted from Food & Wine
Note: This is also fabulous with Kale which also needs less cooking time.
1/4 cup extra-virgin olive oil
6 large garlic cloves, thinly sliced
1 medium onion, finely chopped
1 jalapeño, top removed and halved lengthwise
cherry tomatoes, halved
1.5-2 pounds collard greens, stems discarded and leaves chopped OR Kale
Salt and freshly ground pepper
In a large enameled, cast-iron casserole (I used my le creuset), heat the olive oil. Add the garlic, onion and jalapeño and cook over moderately high heat, stirring occasionally, until softened, about 10 minutes. Stir in the tomatoes and collards. Cover and cook over moderately low heat, stirring occasionally, until the collards are tender, about 30 minutes. Discard the jalapeño. Season the collards with salt and pepper and serve.