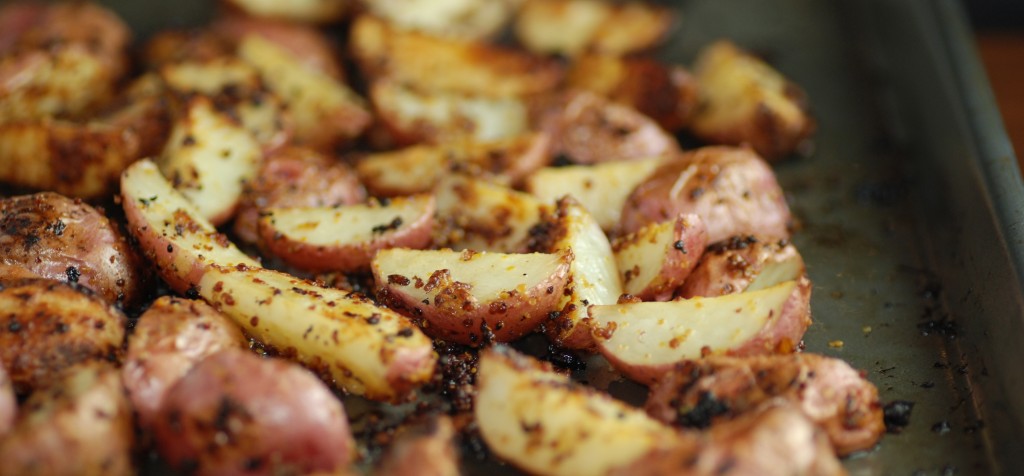 Mustard is so much more than a condiment. It is a bona fide ingredient. And a versatile one. It adds tang and texture to broiled fish, grilled chicken, and roasted lamb. It livens egg salad and salad dressings. It has a distinct flavor, but one that is usually welcome. I love mustard and feel it's often used but under appreciated. Kind of like that sweet boy who always helped you with your homework but you forgot to thank when you aced the test.
As soon as I saw this recipe it skyrocketed to the top of my must-try-this-very-soon list. It had all the makings of a dish that tastes and looks more complex than the work and time that went into it. In other words: my kind of recipe. The ingredients can be bought days in advance and that's only if you don't have everything sitting in your fridges and pantries already.
They turned out just as good as I'd hoped – if not better – and I now make these lovely taters often. They're wonderful with any type and preparation of meat. They have more punch than a regular ole roasted spud or mash, but not enough to overpower your main. They're elegant enough for Saturday night guests and easy enough for a Tuesday night alone.
Thank you, mustard!
Mustard-Roasted Potatoes
Adapted from Gourmet (December 2007)
Nonstick vegetable oil spray
1/2 cup whole grain Dijon mustard
2 tablespoons extra-virgin olive oil
2 tablespoons (1/4 stick or 1/2 ounce) butter, melted
2 tablespoons fresh lemon juice
3 garlic cloves, minced
1 teaspoon finely grated lemon peel
1 teaspoon coarse kosher salt
3 pounds 1- to 1 1/2-inch-diameter mixed unpeeled red-skinned and white-skinned potatoes, cut into 3/4-inch-wide wedges
Position 1 rack in top third of oven and 1 rack in bottom third of oven and preheat to 425°F. Spray 2 large rimmed baking sheets with nonstick spray. Whisk mustard, olive oil, butter, lemon juice, garlic, lemon peel, and salt in large bowl to blend. Add potatoes and sprinkle generously with freshly ground black pepper and toss to coat. Divide potatoes between prepared baking sheets. Spread potatoes in single layer. Roast potatoes 20 minutes. Reverse baking sheets and roast until potatoes are crusty outside and tender inside, turning occasionally, about 15-20 minutes longer.
Transfer potatoes to serving bowl.
Do ahead: Can be made 2 hours ahead. Let stand on baking sheets at room temperature. Rewarm potatoes in 425°F oven 10 minutes.