Last Purim, I went on my very own NYC Hamantashen Crawl. This year, I stayed at home and made a batch of these festive cookies in my very own kitchen.
The recipe I used was in this week's NY Times. I initially saw it and dismissed it, because I usually stray from anything that involves dough. I hate dough. Well, truth be told, dough hates me. I'm just returning the favor. It never does what I want, when I want. My patience for tarts that shrink, crusts that crack, and dough that won't roll, is short. Very short. But when this wonderful cook posted how delicious these 'tashen were, I couldn't resist.
This butter-based dough was fairly obedient, much more than I was expecting. Rolling the dough to 1/4 inch thickness seemed to be the key, making the circles sturdy and easier to shape.
Oh, and did I mention I also made my own poppy seed filling? I omitted much of the "extras" from the NY Times recipe as we didn't have any brandy or orange liquor and I was worried the vanilla would make the mixture too sweet. My omissions were not missed.
I filled half the cookies with poppy seed and the other half with raspberry jelly. (During cooking the jelly oozed and evaporated and I actually had to refill some of the cookies after baking. Note to self: look at recipe or do some research on that one for next time.)
The Hamantashen were delicious. The cookie itself was better than most I've had (and I've had my share). It was buttery, flaky, and perfectly sweet. They were especially delicious when still warm, a treat you won't get at the bakery.
My husband and I joked that from start to finish, preparing and baking the Hamantashen took almost as much time as last year's crawl. It was worth the effort!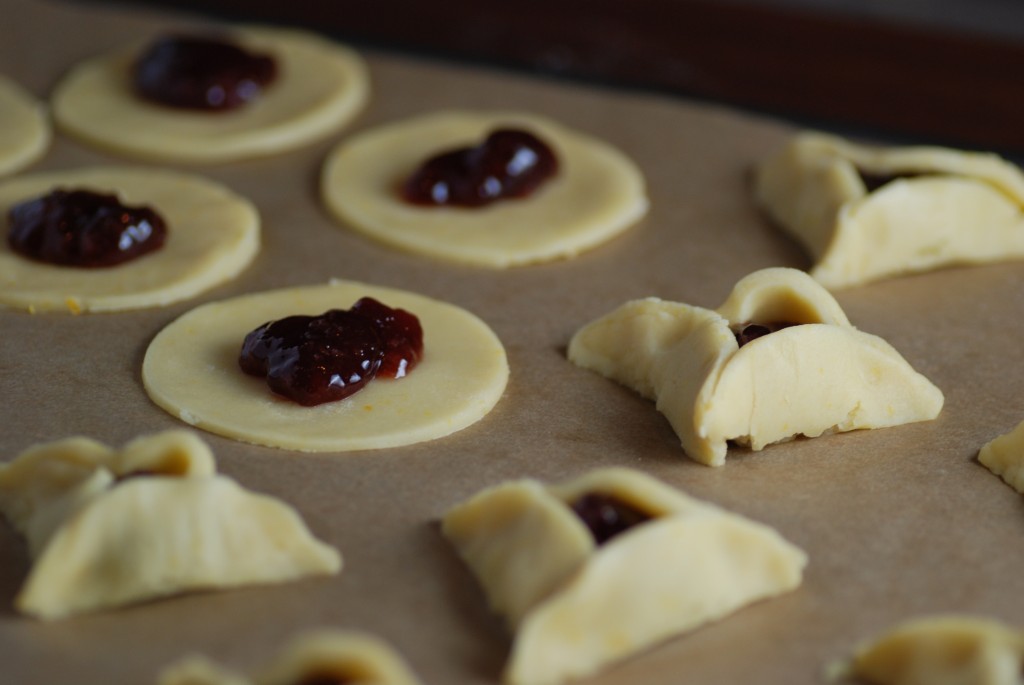 Hamantashen
Adapted from the NY Times
Makes about 30 cookies using a 3 inch cookie cutter.
2 large egg yolks
1 cup powdered sugar
8 ounces unsalted butter at room temperature, cut into small pieces
Grated zest of 1 lemon
2 1/4 cups all-purpose unbleached flour
Pinch of salt
1 large egg, beaten, for the glaze
Poppy Seed Filling (This makes more than enough for the entire batch.)
1 cup milk
1/2 cup sugar
Grated zest of 1/2 orange
1 cup poppy seeds
1/3 cup raisins
Juice of 1/2 lemon
1/2 tablespoon butter
Dough Prep: Place the lemon zest, powdered sugar, flour and salt in the bowl of a food processor and pulse to blend. Add the butter and egg yolks and process until the mixture forms a ball. Scrape onto a sheet of plastic and wrap it tightly. Chill the dough for an hour or overnight. If chilling overnight, I would refrigerate the dough in quarters as it came out of my fridge way too cold and impossible to flatten or roll, requiring at least 15 minutes to warm up.
Filling: Heat milk, sugar, orange zest, poppy seeds and raisins in a small saucepan over medium heat. On a low simmer, cook until the seeds absorb the milk, thickening the mixture, about 15 minutes. Add the lemon juice and butter and cook for 2 minutes more. Remove from heat to let cool completely (or put it in the fridge).
Preheat the oven to 350 degrees. Line 2 pastry sheets with parchment paper.
Cookie Prep: Roll out the dough to 1/4-inch thickness and use a cookie cutter to cut 2.5-3 inch circles. Put a heaping teaspoon of the filling in the center of each, and press up the sides to form triangles. Brush the tops with beaten egg. Put the cookie sheets in the fridge for 20-30 minutes.
Bake until golden and dough is delicately firm all the way through, about 15 minutes. If trays are on different racks, switch them after about 10 minutes.