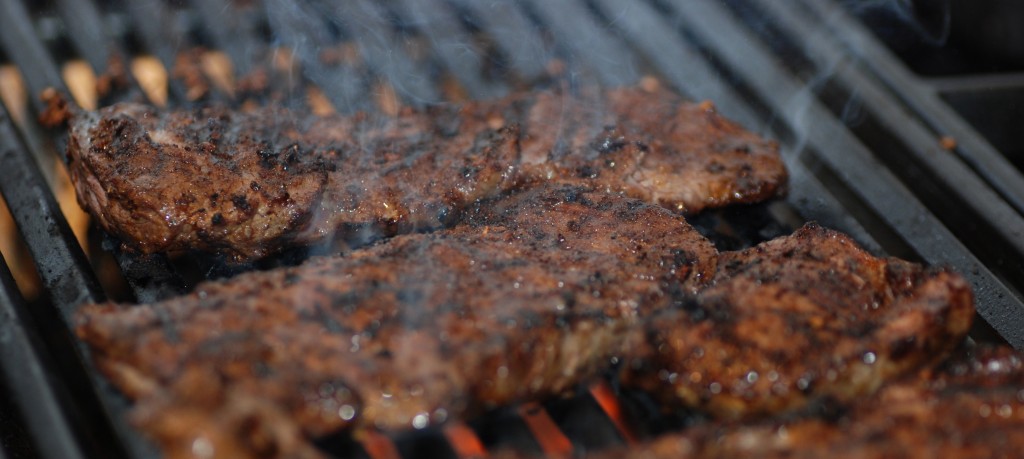 Skirt steak often falls on the fringe of the meat radar (the outskirts?). Some consider it tough and stringy and others, put off by a price tag that is a fraction of a filet, porterhouse, or ribeye, don't find it fit for company. The former don't know how to cut it (you'll have to keep reading for that juicy tidbit) and the latter have other issues (in my experience, guests love anything that tastes good).
Alas, the skirt steak gets relegated to week nights and carne asada. And no, I'm no knocking carne asada, which I love just as much as the next gal. All I'm saying is that skirt steak has lots and lots of untapped potential.
The thin cut takes whatever flavor you throw at it – whether it be a sweet glaze or a spicier rub like the recipe below – and multiplies it. And more surface area means more bites of crispy, grilled goodness.
It has great texture that pairs perfectly with any type of spud or vegetable. It doesn't take long to cook and if you don't have access to a grill, it does wonderfully in a ridged pan on the stove top.
And now, as promised, how to cut skirt steak like a pro? Cut the steak diagonally across the grain into 1/4-inch-thick slices.
Nobody puts skirt steak in a corner.
Spice-Rubbed Skirt Steak
3 garlic cloves
1 1/2 teaspoons kosher salt
1 1/2 teaspoons paprika
1 1/2 teaspoons ground cumin
1 1/2 teaspoons ground coriander
1 teaspoon black pepper
Pinch of ground cloves
1 tablespoon olive oil
1-1.5 pounds skirt steak
Mince garlic and mash to a paste with kosher salt. Stir together spices in a bowl, then stir in garlic and oil until a paste forms. Pat steak dry, then rub all over with paste. Marinate steak in a sealed large plastic bag, chilled, or at least 1 hour (you can marinate overnight too).
Bring steak to room temperature, about 30 minutes.
Grill steak on lightly oiled grill rack, uncovered, turning over once, 4 to 6 minutes total for medium-rare.