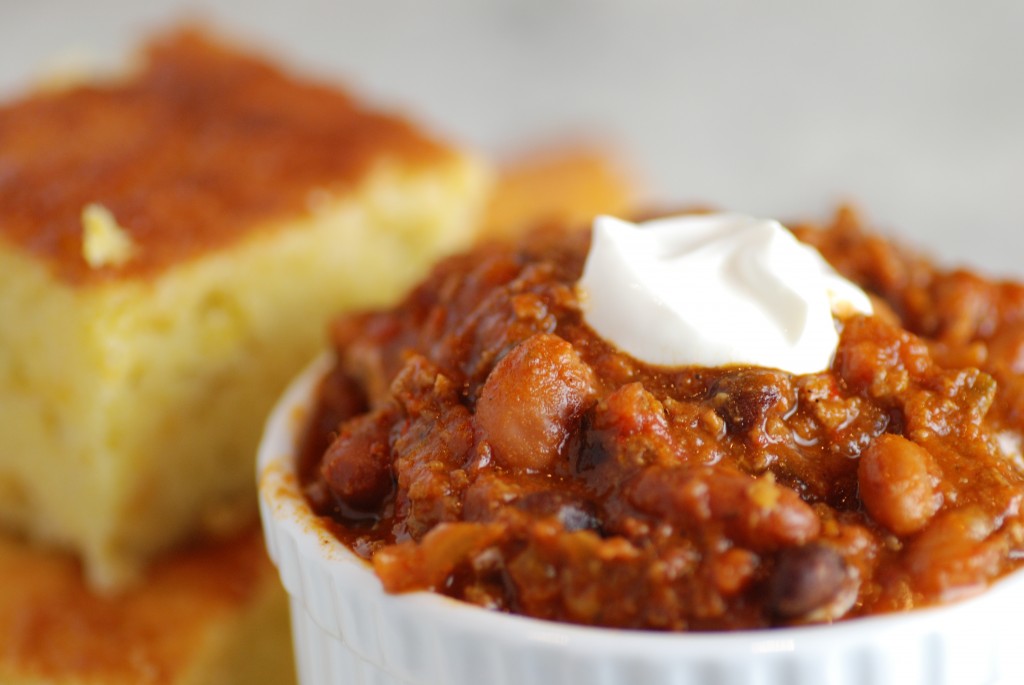 Cold weather + football = chili.
So far this winter has brought low temperatures and snow. I, for one, love winter weather. After a too busy December, a cold January of playoff football is the perfect reason to spend nights at home eating comfort food like chili, sausages, macaroni and cheese, and meatball subs. Are you really going to tell me you don't like winter?
I've been making this chili for years. It's one of the few recipes in my repertoire whose origin I honestly cannot recall. It's a dish that always turns out a little different – in spice level and consistency – each time I make it. But it's always delicious and always a crowd (and husband!) pleaser. We like our chili dense and I let this one simmer away until it's so thick it could be eaten with a fork. If you like yours soupy, just add more water or skip the long simmer time. And if you nix the meat, you've got yourself a vegetarian chili so hearty even the meat lovers will enjoy it.
We eat ours with sour cream, fritos, and of course, cornbread. But more on that later in the week . . .
Chili
This chili gets better every day. Make at least one day in advance!
Spice Note: Two loyal friends made this last weekend and found it to be a little too spicy. As a result, I've reduced the number of jalapenos. Who knew I was a spice junky?
2 TBSP olive oil
1 medium onion, finely diced
1 red bell pepper, seeded and chopped
1 yellow bell pepper, seeded and chopped
1 jalapeño pepper, seeded and minced
2 cloves garlic, minced
1 lb. ground beef
1/3 cup tomato paste
1 15-ounce can red kidney beans, drained and rinsed
1 15-ounce can pinto beans, drained and rinsed
1 15-ounce can garbanzo (chick peas) beans, drained and rinsed
1 15-ounce can black beans, drained and rinsed
1 28-ounce can stewed tomatoes, cut in small pieces
1/3 cup chili powder
4 teaspoons ground cumin
1 teaspoon crushed red-pepper flakes
¼ teaspoon salt
¼ teaspoon freshly ground black pepper
In a large soup pot, heat olive oil over medium heat. Add onion, yellow and red peppers, jalapeño pepper, and garlic. Cook until the vegetables are soft, about 10-15 minutes. Add meat and cook until it changes color. Stir tomato paste, then 4-5 cups water, kidney beans, pinto beans, garbanzo beans and black beans. Stir to blend, adding stewed tomatoes, chili powder, cumin, and crushed red-pepper flakes.
Bring to a boil for 5 minutes. Reduce heat to medium-low, cover and simmer, about 1.5 hours, stirring occasionally.