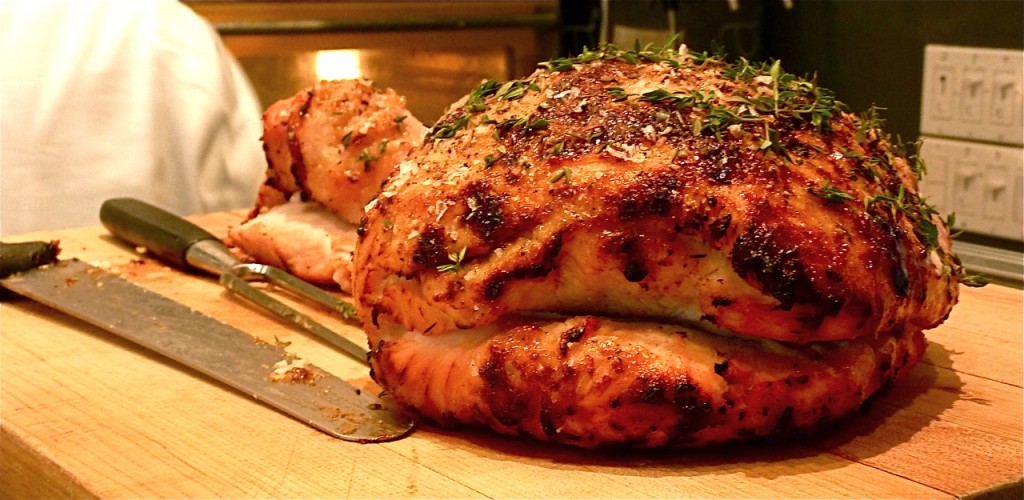 This beauty of a bird is Torrisi's House Roasted Turkey. Its simple moniker significantly understates its preparation. There's so much more to this turkey than just an oven, a roasting pan, and some basting, which is why it tastes like no other roasted turkey you've ever had.
The most discerning palate might be able to identify the ingredient-laden glaze of garlic, pepper, herbs, and honey. The glaze gives the meat a balanced flavor, but without the processed uniformity of sodium packed deli meat. Some bites taste a little sweeter. Others like thyme.
What's more difficult to figure out is how the turkey gets its texture, which is by far, its most distinguishing feature. It's so moist, it's almost wet. There were bites that seemed more pork than poultry. One could even draw a parallel to a dense fish. The turkey's uncharacteristic juiciness is the result of a sous-vide type cooking process that involves plastic wrap, a special moist-convection oven, and an extensive cooking time.
At lunch time it's cut by hand and can be ordered by the 1/4 pound or on a sandwich.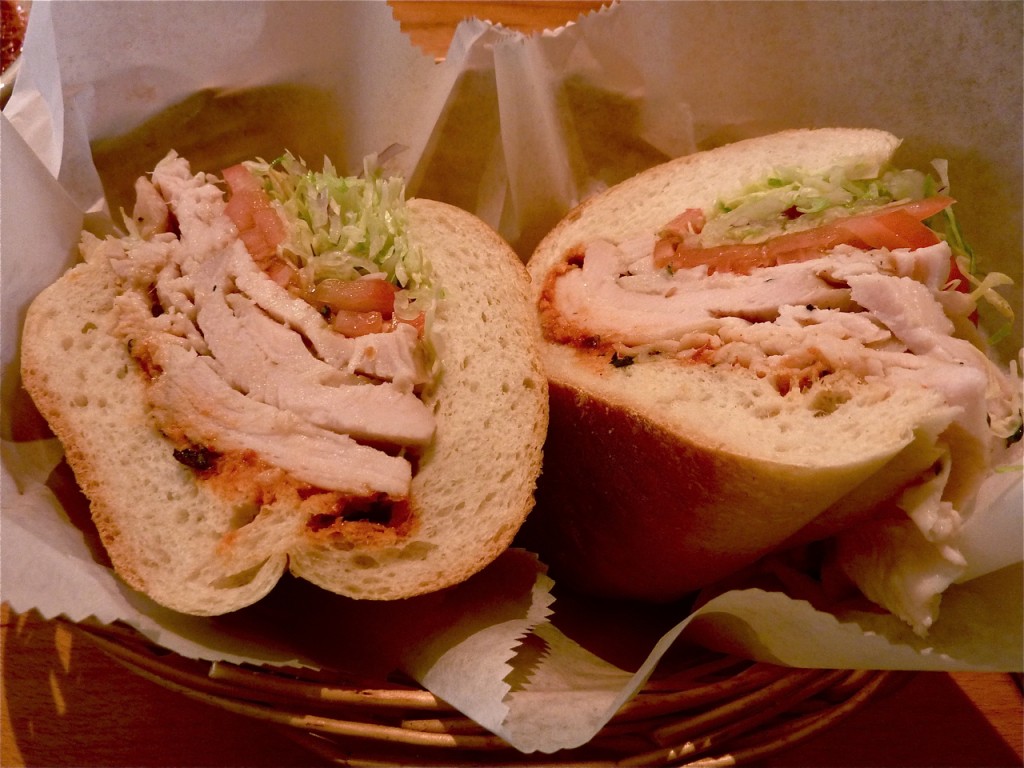 I opted for the Turkey Hero ($9) which comes with tomato, shredded lettuce, a few strings of red onion, mayo, and a spicy tomato-pepper sauce. (There's also a Turkey Roll for $7.) The bread is of the old-school variety, care of neighborhood favorite Parisi Bakery. In true deli tradition, the bread is just right. Those accustomed to the newfangled, oat and wheat kinds might be disappointed. The spicy sauce has an ideal piquant level and though I'm normally not a fan, the shredded lettuce worked.
Since Torrisi starting serving lunch, their turkey has been touted as the second coming. I completely understand why people are wooed by the non-turkey texture, but if the talent at Torrisi can dress up a turkey so well, imagine what they could do to pork loin or a piece of catfish. The thought alone is enough to make my mouth water in a way that turkey never will.