"Thanks for picking up lunch," my husband said, "and for those things you fed me." And just like that, he had perfectly described K! Pizzacone's addition to the already flush Manhattan pizza scene. "Those things" are pizzas served in cones, a hybrid between a calzone and a slice. Some things are better left alone.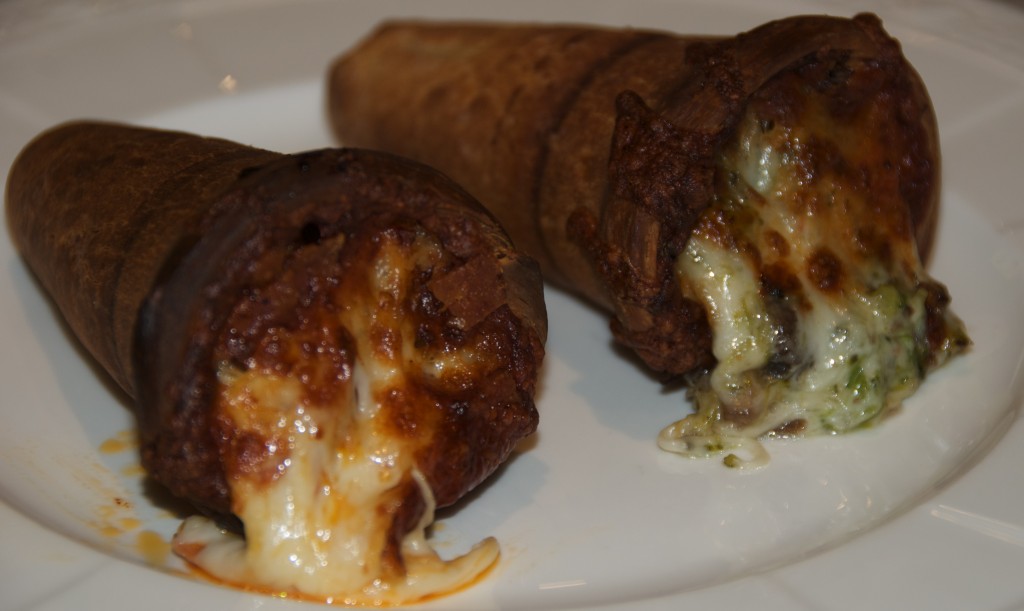 K! Pizzacones have less grease than a slice of pizza and also less sauce. The cheese tastes like the pre-shredded grocery store variety and melts into a similar mess, globby and chewy. The cone is cooked until crisp, making it much less doughy than a calzone. It was much less prominent than I was expecting, its presence merely a vehicle for the ingredients it carried.
The available toppings stuffings are the pizzeria norm: pepperoni, mushroom, sausage, onion, etc. You can choose from a smaller cone (K!) or a larger cone (K!!!), both of which are more expensive, take more time to assemble and cook, and are less filling than a regular ole' slice. They're not served by dough-slinging-sometimes-impatient Italians, but by overly-excited-outfit-wearing youngsters. The cones are packaged in wasteful boxes and plastic bags that should make any quasi-green consumer cringe. So while the pizzacones tasted okay, everything about them felt wrong. Call me old-fashioned.
After the hype dies down, K! Pizzacone might find the most success with their dessert cones, which for the time being are buried under a menu of their savory counterparts. The Banana Flambe & Chocolate cone was not only tasty, but it had all the right charms for a sweet treat. It succeeded in every way the pizza-filled cones failed.