I'm a New York City food snob. A Manhattan-restophile. I get frustrated by Time Out NY's distracted coverage of that other borough. I'm annoyed that Sam Sifton spends too much time on the wrong side of the water.
I know there are Brooklyn restaurants that deserve praise. I'm willing to concede that there is likely some amazing food over there. I just don't see how it could be better than here. Why it would merit a subway ride away from the heart of New York, the city's pounding pulse drowned out by the East River.
A good friend, keenly aware of my Brooklyn-phobia, has been pushing me to face my fears. A few weeks ago the push turned intervention. On a Wednesday he emailed, "I got us a reservation at Brooklyn Fare this Friday. Only 18 seats – chef's table!" I began to type my reply, "Must be a real hot spot if you could get us in so easily." I stared at the screen and then hung my head in shame. I held down the Delete key and tried to erase the person I had become. I needed help.
As it turns out, Cesar Ramirez's 9-course tasting menu at the Chef's Table at Brooklyn Fare is a suitable treatment plan. Amuse bouches included, the program is about 14 steps.
An amuse bouche parade kicks off the meal. There was a sardine delicately strapped onto a potato chip. A luscious bite of toro tartare. A gussied kumomoto oyster. In separate instances, the delicateness of blowfish and peeky-toe crab was muddied by an unnecessary battering and frying.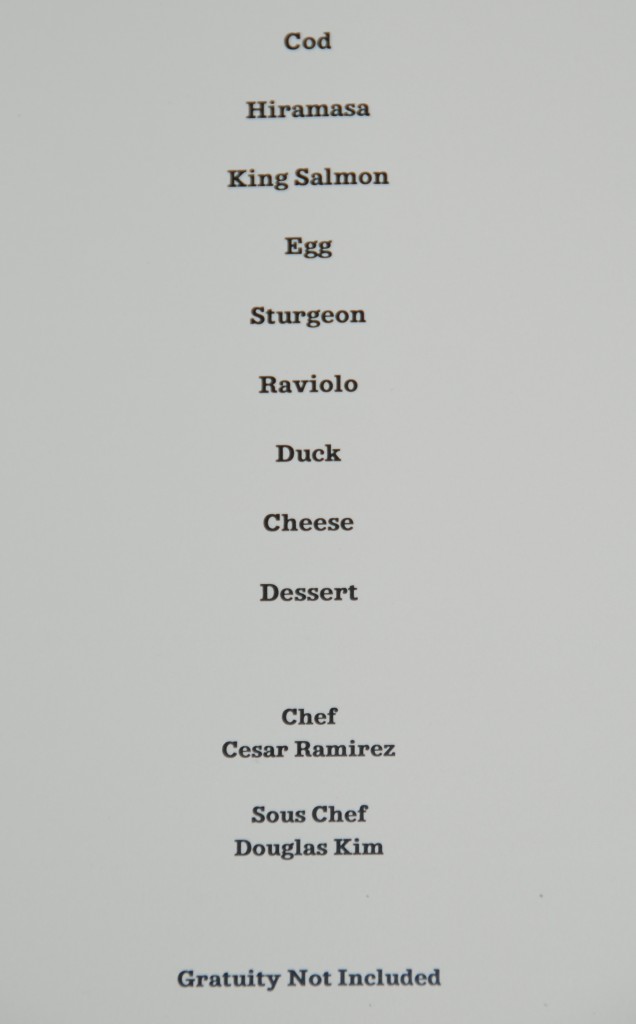 The menu reads simple. The food is complex. Four-bite constructions boast elegance, flavor, skill, and restraint. Though his stints at Bouley and Bar Blanc might throw you off the scent, Ramirez leans towards Japanese-style cooking. At Brooklyn Fare his often changing menu focuses on clean flavors and fresh ingredients. Everything is balanced. At David Chang's Momofuku Ko the tastes and textures slap you in the face. At Brooklyn Fare they caress your cheek.
Every fish course glistened. A poached egg was submerged in meaty broth. A pillow of veal raviolo would have made Batali swoon. The meal hit status quo at the seventh course with a piece of ho-hum duck. The cheese course was a serviceable palate cleanser. The dessert was forgettable and there wasn't a single petit four or truffle. It was as though the parade lost steam and then decided to abruptly call it quits.
The setting is intimate-meets-industrial. Though the small space is attached to, and affiliated with, the Brooklyn Fare grocery, it appears stand alone. The kitchen is open, but there's not much to see. Chef Ramirez and his lieutenants hardly break a sweat over a too-clean stove top. There's more plating than cooking.
Ramirez is a chameleon of a host and chef – his colors change on the whim of his diners. He stayed camouflaged until we coaxed him out. It was only then that he spoke a little louder when describing the dishes, chatted about the restaurant, and happily drank wine offered by his patrons.
For now, Brooklyn Fare is a BYOB establishment. A skinny bar top features an ice bin and a selection of wine glasses to hold whatever bubbly, red, white, or apertif you bring along. The BYOB set-up is one of the restaurant's biggest coup's and you'll be wise to take advantage of it before Ramirez fills his cellar and deploys a $95 wine tasting (which as I understand it, is happening soon).
At $135 per person, Brooklyn Fare doesn't offer the best of value, but it does suggest a reason to go to Brooklyn. Chef Ramirez is cooking up some some wonderful things. It should come as no surprise he honed his skills in Manhattan.