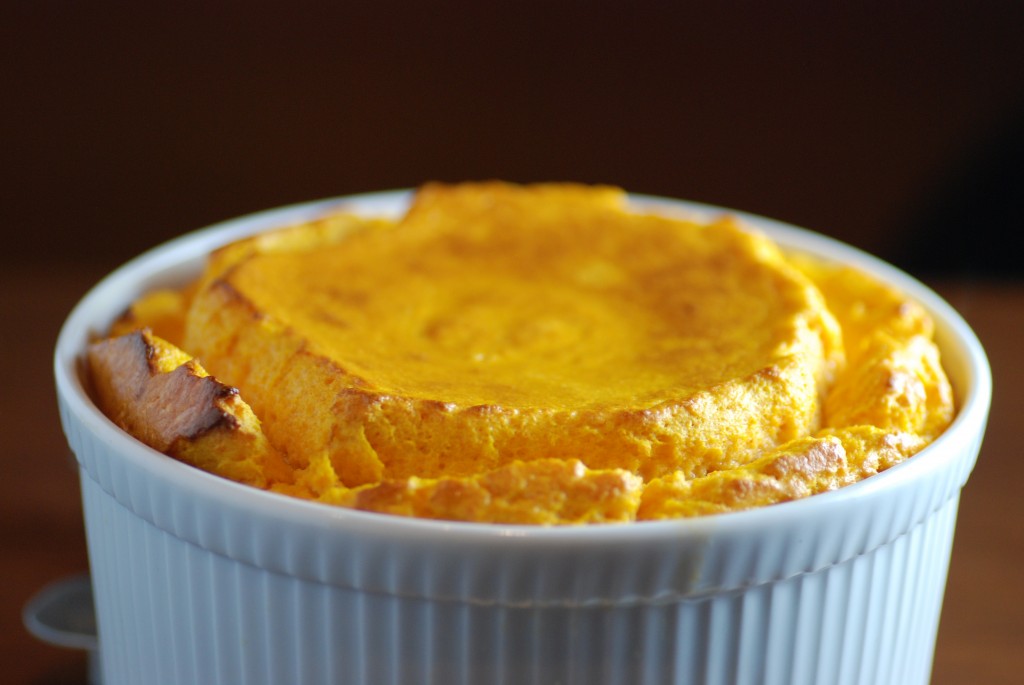 The weather has been iffy this April in New York City – lots (and lots) of rain and temperatures ranging from 45 to 70 degrees. Needless to say, I have not been inspired to dig out and pick through my spring wardrobe to see what might pass muster for this year. But, touched with a spell of spring fever, I had to do some form of cleaning. Enter my recipe book.
My disorganized and overstuffed binder was in desperate need of attention. I tossed recipes I wouldn't make again and discarded the duplicates that result from overzealous internet printing. I three-hole punched and organized all the loose papers that had collected behind the front cover. I unearthed over a dozen recipes that I couldn't wait to try (why I clipped or printed them in the first place) or revisit. Enter my Mom's carrot souffle, a dish I loved growing up.
The recipe was a photocopy of the handwritten original, and according to the text in the corner, faxed to me in December 2005. I can't remember ever making it. My Mom's recipe is of the sweet variety – sugar and cinnamon are prominent. My husband doesn't love sweet with anything but dessert, so I decided to try it with some cayenne and cumin instead. The prep was easy. The results were peppy and flavorful.
Though this is called a souffle, it doesn't do a whole lot of rising. This also means it doesn't do any falling (you'll see in the recipe that it even benefits from – gasp – resting time). The souffle is bright and beautiful. It's dense but somehow light. The texture is rich. Whether you're into sweet or savory, it's worth a try.
Carrot Souffle
Serves 3 but the recipe can be easily 1.5x or 2x
1 bag baby carrots – cut in half and steamed until soft
1 cup whole milk
3 TBS flour
4 eggs
4 TBSP butter – softened
Cayenne
Cumin
My Mom's sweet version: Skip the cayenne and cumin and add 1/4+ tsp. cinnamon and 1/4 cup sugar.
Preheat oven to 350.
Combine all ingredients in a Cusinart or blender. Grease 7″ casserole.
Cook uncovered for 45 minutes. Let cool for 5 minutes before serving.