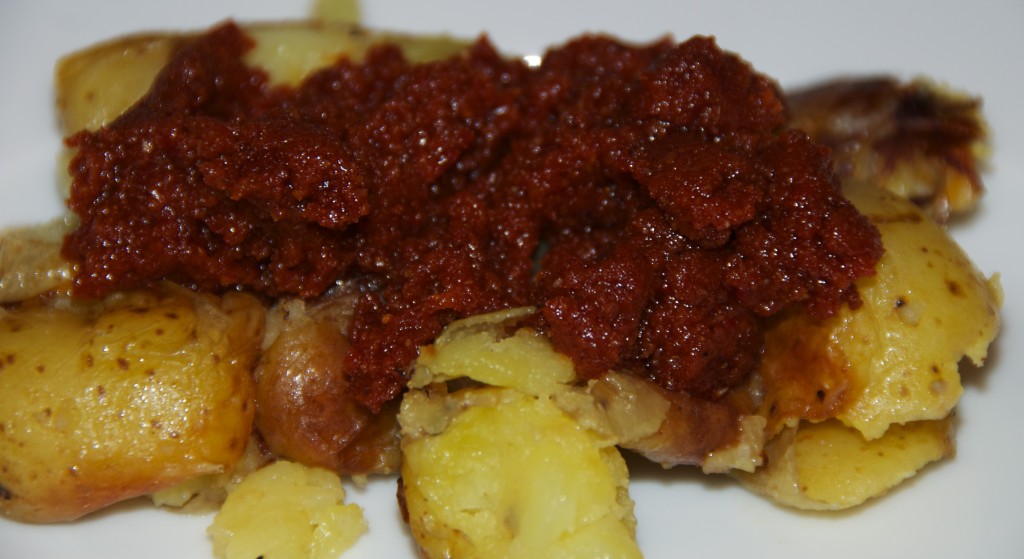 In Suzanne Goin's Romesco sauce, a seemingly bizarre combination of ingredients – including almonds, hazelnuts, toasted bread, ancho chile peppers – are pureed into a sublime pesto-like sauce. When your guests start to swoon over the texture and richness, introduce one of my favorite dinner games: Guess the ingredients! You can even offer a prize of extra romesco sauce – don't worry, they'll never win.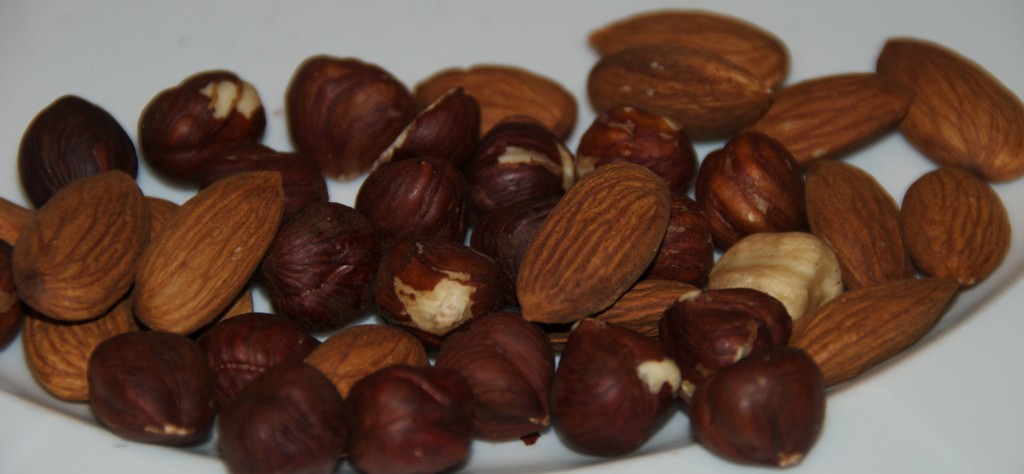 No one will be able to name anything other than the tomato, olive oil, parsley, and garlic. The idea that nuts, bread, and peppers could create something so wondrous is pretty much unimaginable. After you've floored them with the surprise ingredients, tell your guests that from the moment you read the recipe, you just knew it would be something special. They're sure to talk about you in hushed whispers on the way home. In the way all home chefs dream about.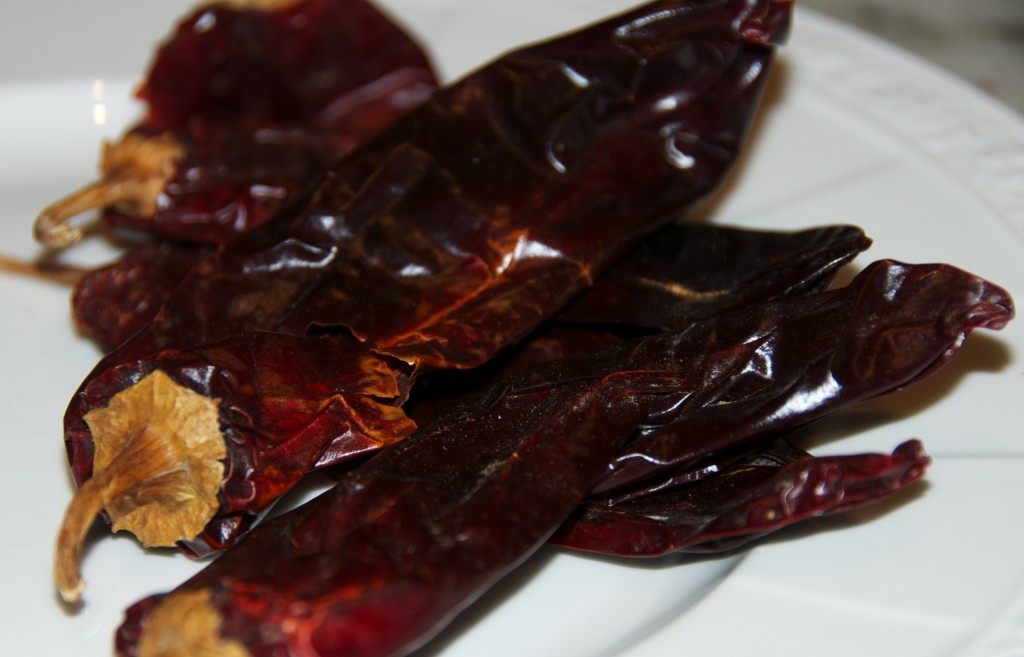 Another reason to love this romesco sauce is that it delivers an insane amount of flavor without any spice (the chiles are milder than mild). It's perfect for guests – like my parents, for example – who don't like the kick of red pepper flake or the heat of cayenne. On the flip side, anyone who favors spicy food will be blown away that a dish can achieve such intense taste without a single spice (there isn't even any pepper!).
These romesco potatoes will make everyone happy. They were perfect with lamb, but a bit too much with steak. I think they'd be wonderful with roasted chicken and maybe even a dense fish like swordfish.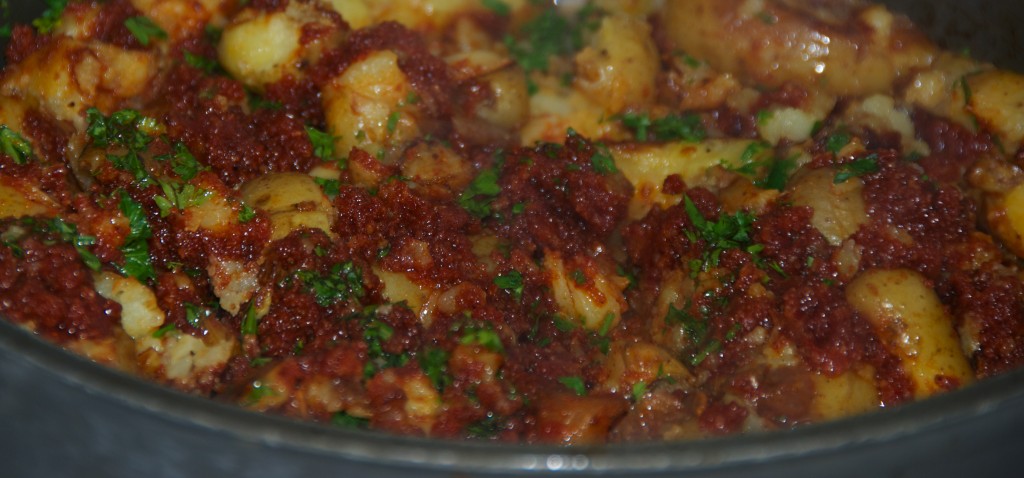 In the last ten years I've bought approximately one cookbook for myself. These days, a Google search can find almost any recipe, from any chef or magazine. Cook-friendly websites like Epicurious and AllRecipes operate like the iTunes of the recipe world, allowing us to obtain recipes piecemeal, instead of having to invest in a whole cookbook.
So what made me buy Suzanne Goin's Sunday Suppers at Lucques? This guy wooed me with Goin's Deviled Chicken Thighs and Roasted Pork Loin with Haricot Verts and Mustard Bread Crumbs. It sounded like a cookbook worth owning.
Goin's recipes involve many steps and ingredients. It's easy to open her beautiful book, get overwhelmed by the seemingly difficult recipes, and return it to the shelf for another day. But here's the secret: Goin's recipes are more time-consuming than they are complicated. If you read her recipes carefully and and are comfortable (occasionally) overriding her explicit instructions and detailed steps in favor of your inner chef's instincts, you'll be just fine. The payoff is that executing any of Goin's dishes will make you feel like a true chef.
This romesco is like no red sauce you've ever had before. So go on, be a chef.
Romesco Sauce
Adapted from Suzanne Goin's Sunday Suppers at Lucques
5 ancho chiles
2 tablespoons raw almonds
2 tablespoons blanched hazelnuts (I rubbed off their skins after they were toasted and cooled)
1 cup extra-virgin olive oil
1 slice bread, about 1-inch thick (I've used both sourdough and semolina to great results)
1/3 cup canned, pureed tomatoes
1 clove garlic, chopped
1 tablespoon chopped flat-leaf parsley
lemon, for juicing
A splash of wine vinegar
Kosher salt
Note: This sauce can be made up to two weeks in advance and stored in the fridge.
Potatoes
2 pounds mini Yukon Gold potatoes
3 TBSP extra virgin olive oil
4 to 5 cloves garlic, unpeeled
Romesco sauce from above
2 tablespoons chopped flat-leaf parsley
Kosher salt and freshly ground black pepper
Sauce: Preheat the oven to 375°F. Remove and discard the seeds and stems from the chiles, then soak them in warm water for 15 minutes to soften. Strain the chiles, and pat dry with paper towels. Meanwhile, spread the nuts on a baking sheet and toast for 8 to 10 minutes, until they smell nutty and are golden brown.
Heat a large sauté pan over high heat for 2 minutes. Add 2 tablespoon olive oil, wait a moment (for it to heat) and fry the slice of bread on both sides until golden brown. Remove the bread from the pan and cool. Cut it into 1-inch cubes and set aside.
Return the pan to the stove over high heat. Add 2 tablespoon olive oil and the chiles and sauté for a minute or two. Add the tomatoes. Season with 1/2 teaspoon salt and cook for 2 to 3 minutes, stirring often until the tomato juices have evaporated. Turn off the heat and leave the mixture in the pan.
In a food processor, pulse together the toasted nuts, garlic and fried bread until the bread and nuts are coarsely ground. Add the chile-tomato mixture and process for a minute or two more. With the machine running, slowly pour in the remaining 3/4 cup of olive oil and process until you have a smooth purée. It's normal for the romesco to "break" (separate into solids and oil). Add the parsley, season to taste with lemon juice, vinegar and salt.
Potatoes: On recommendation from this fine cook, I used a 12-inch cast iron skillet for all the below steps. Place the potatoes in skillet and toss well with 2 tablespoons olive oil and a heaping teaspoon of salt. Cover tightly with aluminum foil and roast the potatoes until tender when pierced (30-45 minutes).
Transfer cast iron skillet to stove-top and heat on high for 2 minutes. Pour in the remaining 1 tablespoon oil, turn the heat to medium-high and wait 1 minute more. Smash the potatoes with a fork until they're very broken up (think hash browns). Season with salt and pepper and sauté for 6 to 8 minutes until they are crispy on one side. After they've browned nicely on the first side, turn them until they color on all sides (the crispier the better). Spoon the romesco sauce over the potatoes and stir. The romesco will dry out a bit as you cook it. Toss in the parsley. Adjust seasoning if necessary.