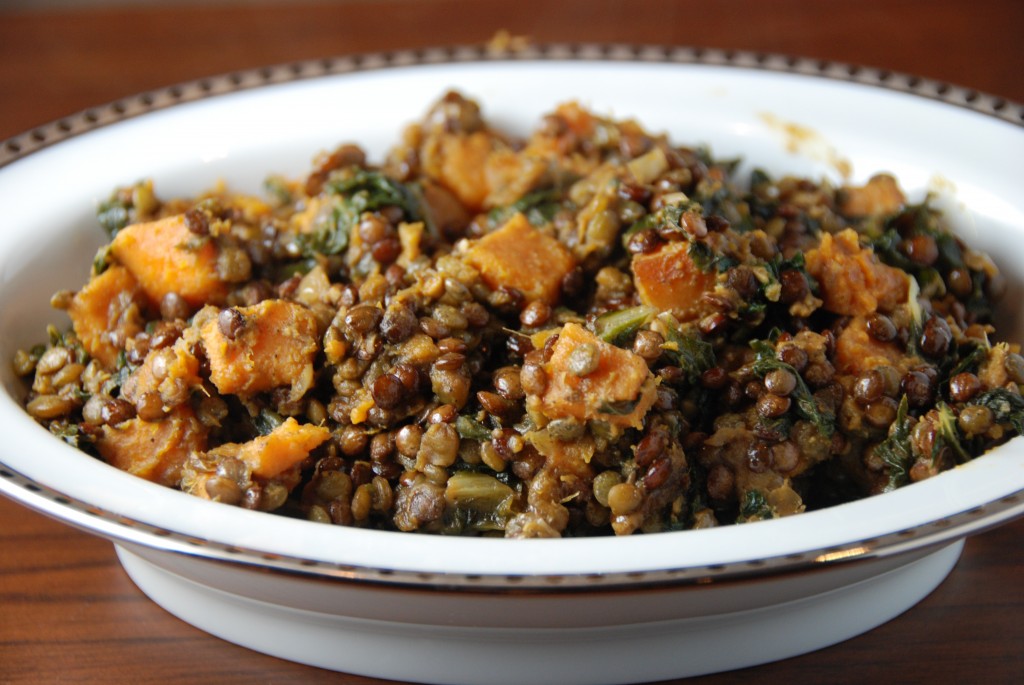 I need to cook with Indian spices more often. The smell that fills the apartment is warm and inviting. The food follows suit.
When I set out in search of a lentil recipe a couple of weeks ago, it wasn't an unseasonable balmy 60 degrees. For whatever reason, curried lentils scream autumn and winter a lot louder than spring or summer, and I wanted something hearty and wholesome. Something flavorful, but not too spicy. The moment I saw this recipe I had eyes for no other.
Sweet potatoes. Swiss Chard. Cumin. You had me at . . . well, frankly all of it.
The original recipe suggests cooking the potatoes with the lentils from the get-go, but this rendered them too mushy and made stirring the dish difficult while trying to keep the potato cubes intact. I've adjusted for that in my adaptation below.
I urge you to try the dish before you add the lime, or maybe set some un-limed lentils aside, to do a little taste test. Citrus and acid are never a bad thing, but with this dish I wondered if it didn't overpower the subtly of the spices.
When it turns to winter, and trust me it will, give this recipe a try.
Curried Lentils With Sweet Potatoes and Swiss Chard
Adapted from The New York Times
Makes 4-5 side-dish servings
1 tablespoon extra virgin olive oil
1/2 medium onion, chopped
3 garlic cloves, minced
1 1-inch piece fresh ginger root, peeled and grated
3/4 teaspoon garam masala
3/4 teaspoon curry powder
up to 1 jalapeño pepper, seeded if desired, then minced (depending on desired spice level)
2 to 3 cups vegetable broth as needed
1 pound orange-fleshed sweet potatoes, peeled and cut into
1/2-inch cubes (about 4 cups)
3/4 cups dried lentils (I used French lentils)
1 bay leaf
1 head Swiss chard, center ribs removed, leaves thinly sliced
1/2 teaspoon kosher salt, more to taste
1/4 teaspoon ground black pepper
Finely grated zest of 1/2 lime
Juice of 1/4 lime
1. In large saucepan, heat oil over medium heat. Add onion and saute until translucent. Add garlic, ginger, garam masala, curry powder and jalapeno. Cook, stirring, for 1 minute.
2. Stir in 2 cups broth, lentils and bay leaf. Increase heat to high and bring to a boil; reduce heat to medium, partially cover, and simmer for 20 minutes.
3. Add sweet potatoes and simmer for another 10-15 minutes. (If lentils seem dry, add up to 1 cup stock, as needed.) Stir in chard and salt and pepper, and continue cooking until lentils and potatoes are tender and chard is cooked.
3. Just before serving, stir in lime zest and juice.