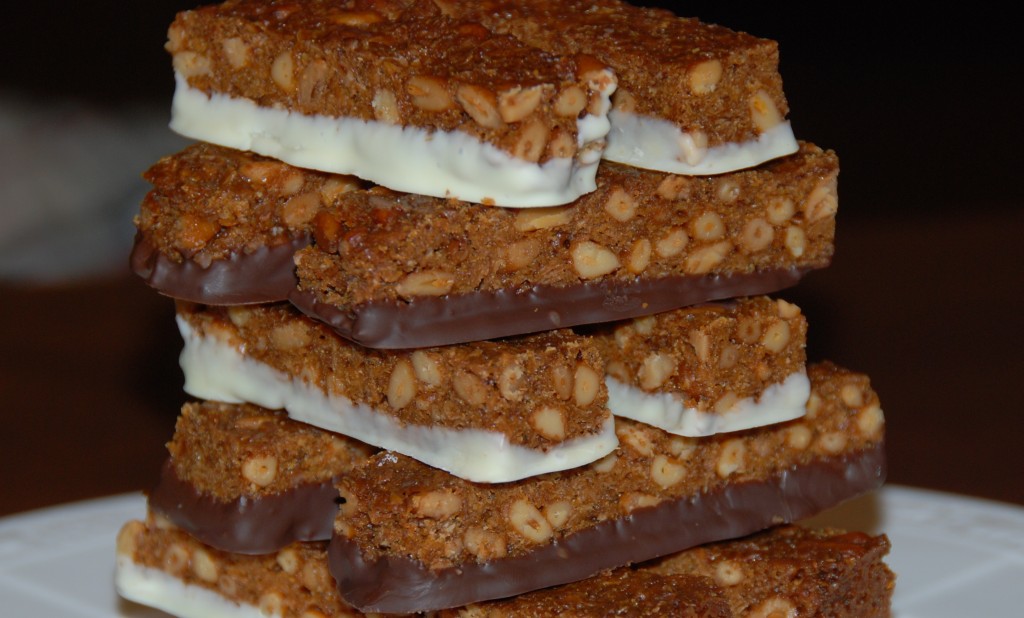 This month's issue of Food & Wine is particularly good. Usually, there is a recipe or two I file away to make in the future. Sometimes I follow through, often I don't. But the May issue was packed with recipes I'm excited to try, including this one, which from the moment I saw, I could not get out of my head.
The bars came out beautifully, at least from an aesthetic standpoint. But they were more crunchy than sticky, owing to the fact that I let the butter-honey-oat-nut-sugar concoction cook a few minutes too long on the stove top. The color was a hue (or two) past golden and had a faint overdone taste before it even went in the oven.
I used quick oats, which I'm fairly certain didn't have an impact. I also used toasted pine nuts, mainly because the toasted variety have a lot more flavor (and because I happen to have a lot of them on hand). In retrospect, that might have paved the way to the dark side. In addition to the recipe's call for white chocolate, I also dipped in semi-sweet. The much sweeter white chocolate was a better foil for the nuttiness.
I have a feeling this recipe could be tweaked to heavenly levels. Pretzels bits and peanuts come to mind.
I do urge cutting bite-sized squares instead of bigger bars. They looked adorable and disappeared before I had time to get the camera out.
Sticky Oat-and-Pine-Nut Bars
(As printed in Food & Wine)
1 stick unsalted butter, plus more for greasing
3/4 cup honey
1/2 cup packed light brown sugar
2 cups old-fashioned oats, preferably thick-cut
1 1/2 cups pine nuts (8 ounces)
1 teaspoon freshly ground black pepper
Pinch of salt
4 ounces white chocolate, chopped
1/2 teaspoon canola oil
1. Preheat oven to 325. Butter an 8-inch square baking pan. Line the bottom and two sides with parchment paper. (the parchment paper should be in one piece)
2. In a large saucepan, melt the butter, honey, and sugar and cook over moderate heat, stirring constantly, until an amber caramel forms, about 5 minutes. Stir in oats, pine nuts, pepper, and salt and cook, stirring constantly, until the pine nuts begin to brown, about 2 minutes. Scrape mixture into the prepared pan and smooth surface. Bake for about 20 minutes, until bubbling and browned around the edges. Let cool completely in pan.
3. Run a knife around the edge of the pan and lift out the square. Cut into desired bars or squares.
4. Line a baking sheet with parchment paper. Melt chocolate in microwave, stirring every 30 seconds. Stir in oil and let cool slightly. Dip the bottom half of each bar into chocolate and set on the baking sheet. Refrigerate until chocolate is set. Bars can be re-dipped for a heavier chocolate coating.